Our goal is to make wellness accessible, and to help people see that it is possible to feel great every day.
Our goal is to make wellness accessible, and to help people see that it is possible to feel great every day.
– ALEXIS DYSON, CEO & CO-FOUNDER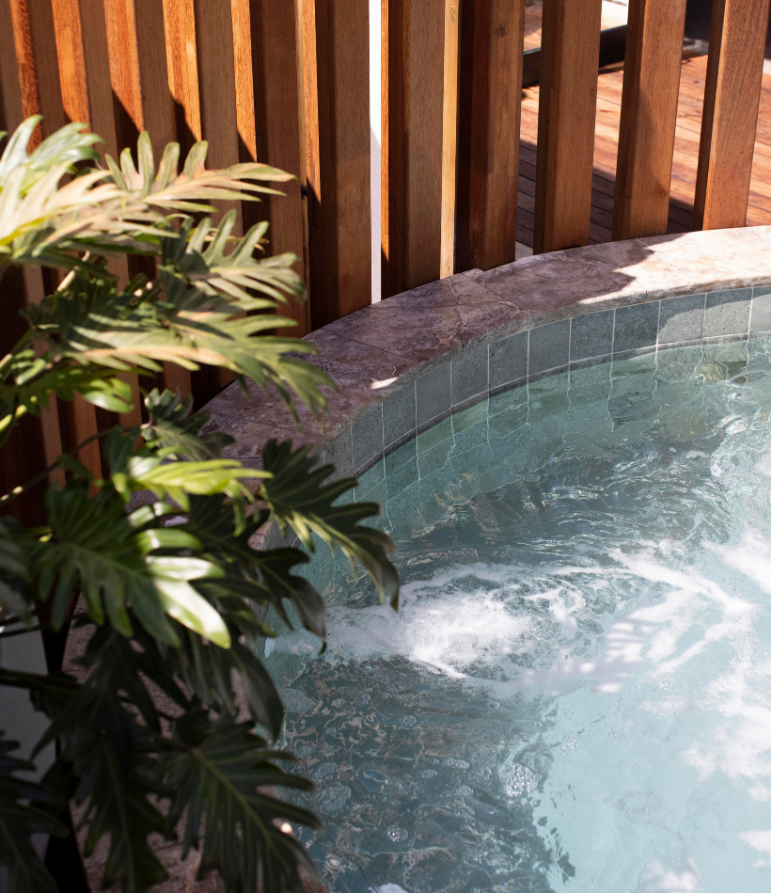 Our Story
Soak Bathhouse is a family owned business, created by husband and wife team Niki & Alexis on the Gold Coast in 2020. Having spent years in the fitness industry, we began to notice people embracing a more holistic approach to wellness. The shift resonated with us. We too were struggling to stay healthy while juggling the pressures of work and family, and our bodies were suffering without proper rest and recovery. We loved health and wellness retreats, but couldn't afford the time or money to use them regularly. We were seeking a new kind of wellness experience.

Wellness routines that slip easily into daily life
The idea of our Gold Coast day spa and bathhouse formed, a place where frazzled individuals could press the reset button and easily begin building positive habits and routines into their lives. We envisaged a place where people could connect, move and nourish their bodies, and recover both mentally and physically. We wanted a retreat, reimagined.
First, we researched, tested and curated a lot of different health trends. Then we developed a series of experiences based around what we call the four pillars of wellness. They are designed to make adopting healthy daily habits as easy as…
1, 2, 3, 4.
1| Recovery
rest, recharge and build immunity.
2| Nutrition
nourish your body and mind.
3| Movement
improve strength, mobility and health.
4| Connection
personal and social connection.
A place to dwell
What makes our Gold Coast day spa and bathhouse different?
Firstly, we've lovingly created an environment where guests feel inspired to linger, relax and socialise, rather than zip off straight after a treatment.
We've ensured our experiences are high quality, affordable and accessible. You can get your daily fix at Soak Bathhouse and create a new kind of wellness routine, or keep Soak Bathhouse as that special treat for you and your friends.
We've also developed a range of custom protocols targeting specific concerns. Keen to boost your immunity, lose weight or improve your skin health? We've got you.

Inclusion, acknowledgement and respect
At Soak Bathhouse, we pride ourselves on being a modern Australian bathhouse. To us, this goes deeper than offering experiences and facilities that reflect the Australian lifestyle and culture. It means acknowledging, respecting and including the many different nationalities and cultures that make up Australia. Most importantly, it means acknowledging the Aboriginal and Torres Strait Islander people as the first inhabitants of the nation. We respectfully acknowledge the Yugambeh People as the traditional custodians of the lands where we live, learn and work, and recognise their continuing connection to land, water and community. We recognise and pay respects to Elders past, present and emerging.

It's time to start feeling great again. Contact our Gold Coast day spa to book a session or find out more.