A MODERN AUSTRALIAN DAY SPA BATHHOUSE
Give yourself a break. Press your reset button. Build up awesome immunity. Now, more than ever, it's important to stay healthy in body, mind and spirit. At Soak Bathhouse, discover a luxurious but affordable urban bathhouse, day spa and massage reinvented for today.
Set in the sun-kissed Queensland, you can experience Soak Bathhouse at Mermaid Beach on the Gold Coast, or at our newest rooftop bathhouse in West End, Brisbane.
Relaxation means different things to different people. We are not your traditional day spa with strict silence and cucumbers on your eyes. We love to see people laughing, connecting with friends, and reaping the benefits of feeling re-energised while they soak. Friday, Saturday, Sunday & Holidays are busy with people connecting and socialising, and we recommend weekdays for day spa or massage if a quieter experience is what you're looking for.
Our Gold Coast and Brisbane bathhouses are not about occasional indulgence or a one-off weekend of bliss. It's about feeling and looking great every day.
Bathing &
Wellness
50-minute
Massage
Infrared Sauna
LED Facial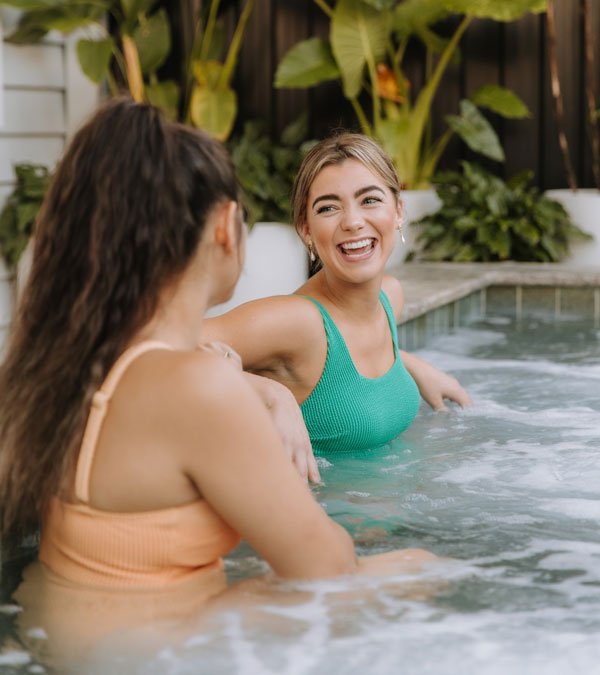 PERMISSION TO UNPLUG
Our Gold Coast and Brisbane bathhouse experiences support the four pillars of wellness – recovery, nutrition, movement and connection. They help you easily incorporate healthy, nurturing routines into your daily life.
Make time for a 90-minute micro dose of wellness. Move between open-air hot spas, communal mineral baths, cold plunge, steam room and sauna, or unwind with one of our signature treatments.

A BEAUTIFUL BUZZ AT YOUR GOLD COAST & BRISBANE BATHHOUSE
Put the stress of your high-pressure life on pause. We're all about disconnecting from the daily grind. But we're about reconnecting, too. In our modern, welcoming environment, find like minded Soakers or simply connect with yourself.
Discover an uplifting new space to socialise – a breath of fresh air away from your often energy-sapping social scene.
Contact your Gold Coast or Brisbane bathhouse today to find out more, book your session or purchase one of our Soak multi packs.
Be inspired by our latest blogs
By Nathanial B. - Oftentimes, the most important step in any successful endeavour is the very first one you take; the same is true for each and...
read more
don't forget to tag @soak.bathhouse in your photos and use the hashtags #soakbathhouse #soaklife #havingasoak